Food plants: Recipes to try

Here's some ideas for using those home grown vegies and fruit.

New ideas can be especially handy when you have a glut!
Included are so far: beans, beetroot, berries, broad beans, kale, onion weed, silverbeet, zucchini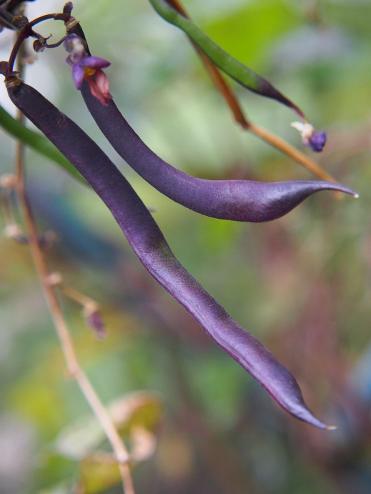 Cook soaked dried beans with bay leaves till

tender.
Meanwhile, caramelise onions with olive oil

in a large frying pan.

Add capsicum and continue cooking gently till

soft. Stir to prevent sticking.

Add carrot and celery and cook a few more

minutes.
Add garlic, tomatoes, chilli or harissa, wine,

vinegar and stock cube. Cook till sauce has

reduced and thickened. Drain the cooked

dried beans and add to the pan.

Add chopped beans and kale, and when

nearly cooked, add basil and pepper to taste.
Serve hot, with grated parmesan cheese and

fresh, preferably home-made, bread.
Fresh beans are one of the joys of summer.

Purple King and Lazy Housewife are two good

varieties of climbing bean.

Purple King is a great 'índicator' bean. It

changes from purple to green as it cooks, and

the moment it turns the beans are perfectly

cooked.

Lazy Housewife is a very prolific producer.

Use not only your fresh beans, but also your

tomatoes, basil and chillies, and dried beans

from last year's crop, in this tasty dish:




Beans with Beans


1/2 cup dried white beans, soaked overnight

2 bay leaves

2 onions, thinly sliced

a good slosh of olive oil

1/2 red capsicum, thinly sliced

2 celery sticks, thinly sliced

2 carrots, thinly sliced

2 cloves garlic, crushed

2-3 large tomatoes, chopped

chilli or harissa paste to taste

1/2 cup white wine

1-2 teaspn balsamic vinegar

1 vegetable stock cube

2-3 cups chopped green (or purple!) beans

handful chopped kale (remove main vein first)

handful basil leaves, chopped

freshly ground black pepper

Beetroot


Beetroot is highly nutritious and wonderfully

tasty. Grow plants quickly in a compost-rich soil

and with regular watering.


Try a tasty but simple salad:

Grate 2 beetroots, mix with a teaspoon or so of

caraway seeds*, 2-3 teaspoons of lemon juice,

1 teaspoon sugar, a pinch of salt and some

chopped parsley.

Sit this in the fridge for an hour or more then

serve with a dollop of dressing made with 1/3

cup sour cream, 1 teaspoon of horseradish

cream and a teaspoon of chopped dill (or grind

some dill seed if you don't have fresh dill).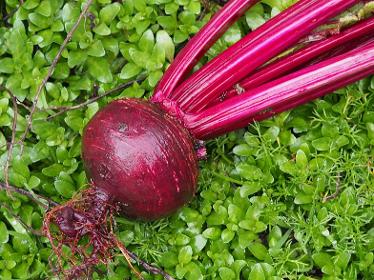 *Grow caraway yourself to ensure

freshness. The cheapest way to get started

is with a pack of caraway seeds from the

spice section of your favourite store.
Borsch (Beetroot Soup)


3 medium beetroot

1 onion

2-3 carrots

1 red capsicum

garlic

1 tomato

1L stock, 1 bay leaf, 5 allspice seeds

2 medium spuds, diced

1/4 cabbage, shredded (and some kale if liked)

1 tblsp each chopped coriander, dill and parsley

1 teasp sugar

pepper; extra stock


Peel and dice beets, carrot and onion. Chop
capsicum and crush garlic. Saute in olive oil
until tender. Add chopped tomato.
Heat stock with bay leaf and allspice. When
boiling add potato and cook until just tender.
Add cabbage (and kale if using) and cook a few
minutes. Remove bay leaf and allspice.
Add stock mixture to sauteed vegies, along with
herbs, sugar, pepper and extra stock as
needed.
Heat (but do not boil, so as to retain the
brightness) and serve with sour cream.
Enjoy!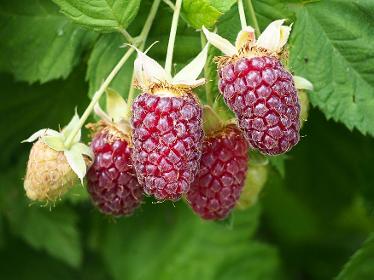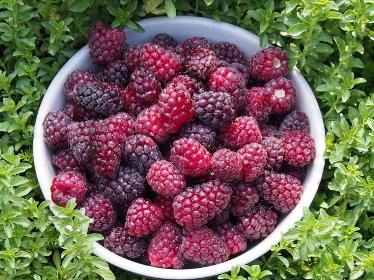 Berries

These are among the easiest fruits to grow in

the home garden.

They don't need full sun, in fact they prefer to be

out of the blast of the summer sun.

Give them some good rich soil and water, and

you will harvest enough to freeze some for later

in the year.


Try this:

250g berries

2 dessertspns brandy

1-2 dessertspns castor sugar

1 teaspn rosewater

1 teaspn orange blossom water


Blend together, sieve seeds out (or not).

Use as a topping for icecream or fruit salad, as

a dip for pieces of fruit, or to flavour a smoothie.

For a cool treat on a hot day, freeze bananas,

slice, and pour the berry sauce over. Yum!




Kale

Just one of the latest in a string of fad foods?



Well, not really. Kale has been around for

squillions of years. It's just not been a common

food plant till recently in Australia.
It's a kind of loose leafed cabbage. It is

nutritious, like all the brassicas (broccoli,

cabbage, radish, rocket, mustards etc).

And it is pretty easy to grow if you choose the

right variety for your climate.
The one shown here is Tuscan Black Kale or

Cavolo Nero. It does well in Melbourne.

Well, not really. Kale has been around for

squillions of years. It's just not been a common

food plant in Australia till recently.
It's a kind of loose leafed cabbage. It is

nutritious, like all the brassicas (broccoli,

cabbage, radish, rocket, mustards etc).

Its beautiful, crinkled, blue-green leaves make

quite a statement in the garden and it goes on

and on producing leaves month after month,

growing taller as it does.
Harvest the leaves you need as you need them

and leave the plant to grow on.
At this time of the year flower buds will appear.

You can let these mature and form seeds for

your next crops.

However, if you have other brassicas growing

they are likely to cross pollinate with your kale.

You could find yourself with kadishes, kallage,

kalcoli or kastards. You may be lucky and find

yourself with a brilliant new hybrid, but most

likely it will be best fed to the caterpillars or the

chooks.
So, you could instead pick the flower buds and

eat them. Steam them lightly, pop them into stir

fries or soups. Treat them like broccoli. They

are delicious!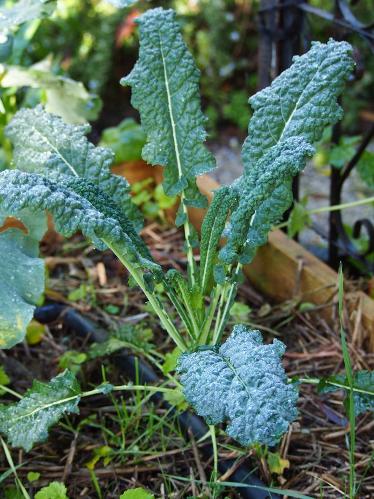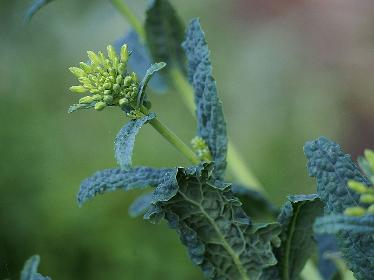 How to use kale leaves:
nibble on them as you garden
as a side dish, saute with olive oil and

garlic
Kale is rich in vitamins A, B-6, C, D and K as

well as iron, potassium, magnesium, and

calcium. It is a high fibre food.
All things in moderation! Too much kale,

especially raw, can be hard to digest.

Little Cauliflower Frittatas with Onion Weed


300g cauliflower grated or blitzed to crumbles
1/2 cup chopped onion weed
1-2 cloves garlic, crushed
1/2 cup chopped Warrigal greens/silverbeet
1/4 cup chopped herbs*
1/4 teaspn finely chopped chilli
freshly ground pepper
1/2 stock cube, crumbled
1 cup grated cheese
4 large eggs
Mix together and spoon into a well-greased
muffin tin.
Bake at 180C for 20-30 minutes until just firm and
lightly browned. Makes 12.
* We used parsley, rosemary and marjoram.
Also try thyme, dill and even a bit of mint.
(Also see our Facebook page for an Onion Weed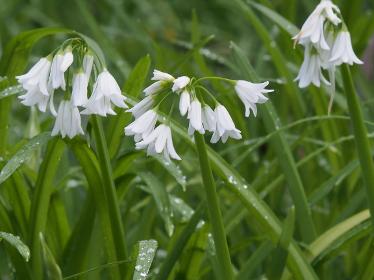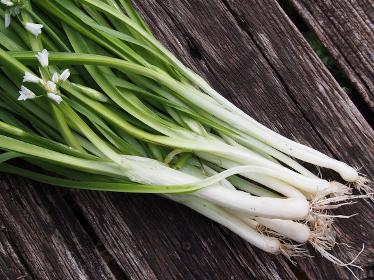 Mix all ingredients together, except the

tomatoes. Heat a couple of tablespoons of oil in a

non-stick frying pan and pour the mix in. Press

the tomato halves into the top, cut sides up and

sprinkle with the extra cheese. Cover and cook

on a low heat until firm. Place pan under the grill

to brown the top (wrap aluminium foil around the

handle to protect it from the heat).
Eat hot, with salad, perhaps a beetroot one like

the one above.
These round zucchinis cover less territory than

the more traditional long varieties and taste very

good.

The problem is though that once your zucchini

plants start producing you can be overwhelmed

by their abundance. Try this zucchini omelette:


400g zucchini, grated

1/2 cup or so corn kernels (fresh or canned)

1/2 cup chopped spring onion
1/2 cup chopped red capsicum

3 cloves garlic, crushed

4 eggs

1 cup grated cheese plus extra for top

1/4 cup chopped basil

1 teasp dried mixed herbs

chilli or harissa to taste

1/4 teasp salt

freshly ground black pepper

1/2 cup self raising flour

handful cherry tomatoes, halved

As a special treat, try this delicious

zucchini cake:
You will need:
1+1/4 cup firmly packed brown sugar
1 cup vegetable oil
3 eggs, lightly whisked
3 cups coarsely grated zucchini
2+1/2 cups self raising flour
1 cup coarsely chopped walnuts
1 cup sultanas or coarsely chopped dates
1/2 teasp bicarb soda
1/2 teasp cinnamon
1/4 teasp nutmeg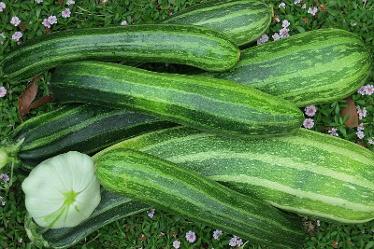 Zucchini striata is a prolific and
attractive Italian variety.

Preheat oven to 180C. Lightly grease a 22cm cake tin and line with baking paper.
Beat the sugar, oil and eggs in a large bowl until pale and creamy. Sift the flour, bicarb and spices

together.Add this with the remaining ingredients to the sugar and egg mixture. Stir to combine then

pour into cake tin and bake for 1+1/4 hours or until a skewer comes out clean. Cool in tin for thirty

minutes then turn out onto a cake rack to cool fully.

Eat as is or top with a cream cheese icing: Beat together 125g Philly cheese, 1 cup icing sugar, 1/2

teasp cinnamon, 1/4 teasp each nutmeg and vanilla. To cover sides as well as top of cake make one

and a half times this mix.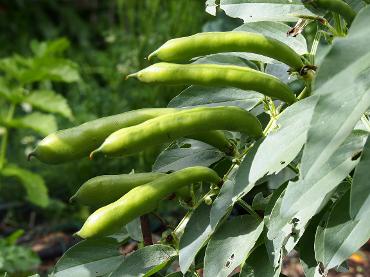 Not always regarded as a favourite, but fresh

picked, home grown broad beans really are

delicious.
Lightly saute in good olive oil or butter, with

some freshly ground black pepper or some

garlic or freshly picked leek.

At the last minute add some fresh snap peas,

and eat immediately: yum!

Add them to salads or make a dip or spread

by pureeing the beans with garlic, parmesan

cheese and a little olive oil.

If your beans have got away and grown too

large, double pod them by blanching in boiling

water for a minute then plunging into cold

water. Then slit the skin with a fingernail and

slip it off.

Save the pods with the most beans inside for

next year's seed.




Silverbeet with raisins and pine nuts



1/2 cup raisins or currants

1/4 cup brandy

6-8 large silverbeet leaves, chopped

olive oil

1 onion, sliced

garlic, crushed

1/3 cup pine nuts, toasted

zest of an orange

chili and black pepper to taste


Soak raisins in brandy.

Saute onion in oil, add garlic, silverbeet, zest,

chili and pepper. Cook, covered until leaves

are wilted and stems softened, adding a little

vegie stock if needed.

Add raisins and pine nuts and serve. This is

good with pasta or roast lamb.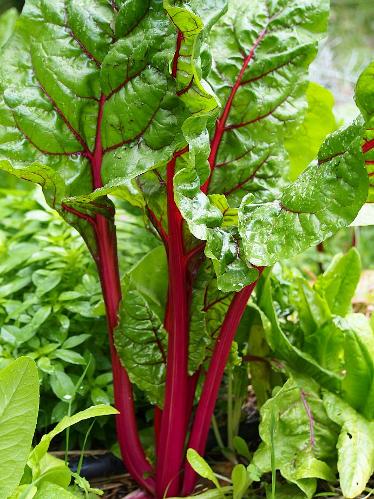 The 'silverbeet' pictured here is a fortuitous

cross between silverbeet and beetroot. It

self-sows in the garden in various shades of

red, often with a delightful beetroot flavour in

the stems.


Here's another good way to use silverbeet:



2 cups cooked brown rice

large bunch silverbeet, blanched and chopped

1 onion, chopped

3 eggs

a slosh of olive oil

1.25 cups grated cheese

1 tblsp each chopped dill, marjoram, mint

black pepper to taste






Mix all ingredients, saving 1/2 cup of grated

cheese. Spoon into a greased pie or lasagne

dish, press down and sprinkle with reserved

cheese. Bake for 40 minutes until firm and

browned.


Serve with a tomato sauce made from 1

chopped onion, sauteed in olive oil, garlic,

800g can of tomatoes, or equivalent fresh

tomatoes, a teaspoon of honey and half a

teaspoon of harissa paste.



Winter vegetable and mushroom bake






Roughly chop 500g of mushrooms and mix with

1/4 cup of good olive oil with 2-3 crushed garlic

cloves, a tablespoon each of chopped rosemary

and thyme and a good sprinkle of freshly ground

black pepper.


Marinate for a couple of hours then spread on an

oven tray, cover with foil and bake for 30 minutes.

remove foil and bake a further 15 minutes.


Use the microwave oven to soften about 3 cups

of pumpkin chopped into 2cm cubes and sloshed

with a tablespoon or so of olive oil.


Spread on a second baking tray with a chopped

onion and bake, uncovered, until they are

browned (30 minutes or so).


Chop a bunch of kale leaves, removing the stiff

ribs first.

When the pumpkin and mushrooms are cooked,

toss them together with the kale on the baking

tray.
Sprinkle generously with pine nuts and bake

uncovered a further 15 minutes, tossing once to

ensure the kale is all wilted.

Spread 2-3 cups of bite-sized chunks of good

bread - perhaps a sour dough loaf - on another

tray and bake for 10-15 minutes until crunchy on

the outside but still soft inside.

Spoon vegetables onto plates and toss with the

bread chunks. Add a drizzle of good balsamic

vinegar and a sprinkle of coarsely ground salt.

Delicious!
Carrots, turnips, swedes, parsnips, fennel,

leek, celery, Jerusalem artichokes...


Turn them into a delicious, warming winter soup

with barley, parsley and whatever fresh greens

you have on hand.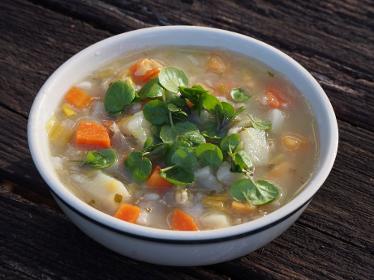 Start by simmering 3/4 cup pearl barley in a

saucepan with 2 cups of water with 1 stock cube,

2 bay leaves and the outer trimmings from the

leek, celery and fennel. Cook until tender, adding

more water if needed.


Meanwhile...

Dice one swede and in a big saucepan, saute,

covered, in butter or olive oil (or a mix -

personally we like butter for this soup).

Next peel and chop:

3-4 carrots

6 or so artichoke tubers

1 large parsnip

1 turnip

1 large leek (we use the whole leek)

2 celery sticks

1 fennel


Add these to the saucepan starting with the

carrots and artichokes, then adding the parsnip,

turnip, leek and 1 teaspn freshly ground fennel

seeds after 5 minutes or so.


Saute until just tender (lid on) then add the celery,

fennel plus 1.5L water and 2-3 stock cubes.

Bring to the boil, add the cooked barley, minus

the flavouring leaves and stems.


Simmer 10-15 minutes then add chopped

fresh greens - e.g. parsley, spinach, Warrigal

greens, kale - and heat through.


Season with plenty of freshly ground white

pepper, garnish with parsley, fennel leaves or

watercress and serve with delicious bread.


This makes a big pot of soup, so you will

probably have leftovers. Add some grated cheese

and different greens for variety next day.

Enjoy!