Bees and pollination
Without bees many plants will not produce fruit well.
Encourage bees to your garden by growing plenty of flowering plants. Aim to have something always

in flower. Flowers that bees love need not be fussy or water guzzlers - many are very tough and hardy.
In late spring - early summer there is usually an abundance of flowers. In other seasons they may not

be quite so easy to find.
Letting some herbs and vegetables go to seed will provide flowers for bees and other beneficial

insects as well as giving seeds for next year's planting.

Look for plants from the following lists. Seasons vary from year to year, so be prepared to find

flowering times varying too. (The flowering times below are for the eastern suburbs of Melbourne.)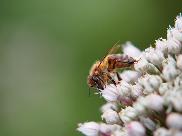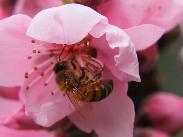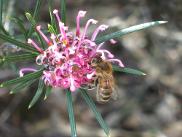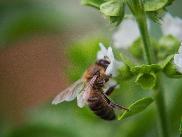 Autumn - Winter
dahlias (single forms)

rosemary
calendula
winter irises
nasturtium
bush marigold (Tagetes

lemmonii)
snow gum
red hot pokers
thryptomene
feverfew
seaside daisy
many native plants

tree dahlias

correas
salvias
Early Spring
Japanese and cherry

plums
jonquils
snowflakes
calendulas
winter flowering lavender

(Lavendula dentata)
grevilleas
thryptomene
perennial wallflower
borage
prostrate rosemary
seaside daisy
nasturtiums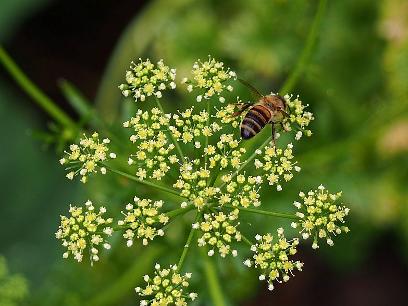 A dish of fresh water will keep bees happy on hot days,

but is best kept away from children, pets and walkways.





Bees where you don't want them?


Bees swarm in spring. Sometimes they settle in
unsuitable places - like the roof of your house.
Call a bee keeper as soon as you notice the bees.
Bee keepers are often happy to collect swarms,
and that way you don't have to have them killed.
Try:
www.amazingbees.com.au
No zucchinis on your plants??
If you don't have many bees in your garden you
may find that your zucchinis and pumpkins are not
setting many fruit. You may need to pollinate the
flowers yourself.

Look closely at the zucchini flowers.
Some grow on a long stem. Inside the flower is a
yellow rod covered in pollen. These are 'male'
flowers.
Other flowers have a small round bulge at their

base. These are 'female' flowers. The bulge will

grow into a zucchini – but only if it gets some
pollen from a male flower.
Use a small paintbrush or your finger to collect
pollen from a male flower. Carefully brush it onto
the centre of the female flower when it is fully

open.
Use this technique on pumpkins and melons too.

Spring - Summer
bearded irises
calendula
zinnias
many fruit trees
tomatoes
zucchinis, pumpkins,

cucumbers
basil
dill
thyme
bush daisies
apples and pears
European plums
apricots

many annuals,

perennials and

succulents

Summer - Autumn
oregano
crepe myrtle
shasta daisies
dahlias (single forms)
some grevilleas
lamb's ear

lavender
gone-to-seed herbs: dill,

fennel, parsley, coriander

salvias
croweas
lamium sp. (aluminium

plant)
gone to seed brassicas,

silver beet and lettuce
feverfew
seaside daisy
Japanese windflowers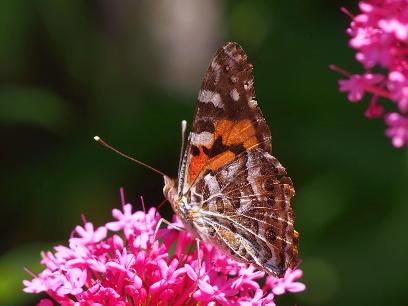 Butterflies love flowers too!