Welcome to
the backyard vegetable!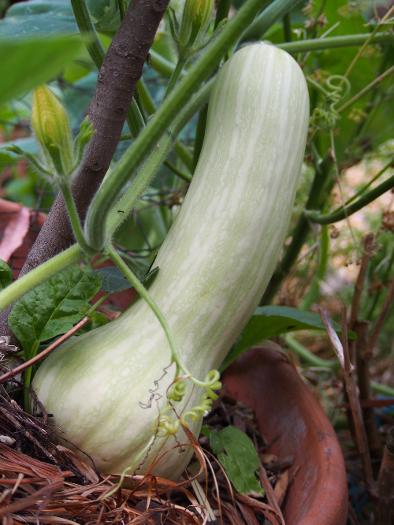 Why not have a go at growing your own fresh food?
We work with you to give you the skills to get

started with your own vegie patch.
Ongoing support, on line or in person, is

available to help you become self sufficient in

managing your patch season by season.

Note: planting and harvest times are based

on conditions in Melbourne's eastern suburbs.
For sale!
The Backyard Vegetable has advanced seedlings for the current season's planting available for sale.
Vegetables:

Kale (Russian Red, Tuscan Black)

Chard (silverbeet and a lovely silverbeet-beetroot cross with red stems and veins)

Lettuce (loose leaf varieties)
Fine, lacy-leafed purple mustard

Bee favourites:

Bush marigold (Tagetes lemmonii)

Also:

Sun rose (hardy edible ground cover)

Most plants are grown either in bottomless 2L milk bottle pots or newspaper pots for easy planting with

minimal root disturbance. Cost $2 or $3.
Larger plants are in pots - 150mm or larger. Cost $5.
April
We're well into autumn now, with summer vegetables finishing their run as the days become

cooler and shorter.

It's time to refresh the vegie beds: a top up with layers of dampened manure and straw will

provide nutrients and organic matter for the next lot of crops.

A green manure crop will also help rejuvenate the soil. Try dun peas, oats, broad beans or a

combination of these. Cut them down just before flowers form and leave them lying on the

garden bed as mulch.

Sow these vegies: Asian greens, broccoli, cabbage, cauliflower, kale, leeks, lettuce, mustards,

rocket, winter radish varieties, turnips and spring onions.
It may be a bit late for peas and broad beans, but no harm trying.

Sow these herbs: coriander, parsley

Plant: garlic

Harvesting now: Late sown beans, lettuce, parsley, silverbeet, potatoes, rocket, mint, rhubarb,

the last of the zucchinis and tomatoes, late apples, limes, grapes, figs

Also harvesting seed from dill, fennel, parsley, celeriac, lettuce, silverbeet.

For more details of autumn jobs see:



We're still loving: Beans


A late sowing of climbing beans - in late January - has given a much appreciated extension to

the bean crop. The original plants have long since succumbed to red spider mite (two spotted

mite), but the new plants are lush and loaded with beans. As the weather cools the beans

become a little more tough, so pick them while young.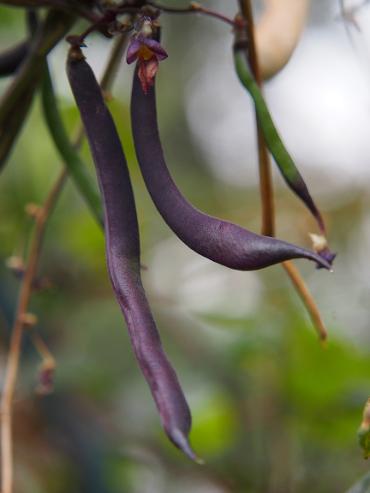 Cook soaked dried beans with bay leaves till

tender.
Meanwhile, caramelise onions with olive oil

in a large frying pan.

Add capsicum and continue cooking gently till

soft. Stir to prevent sticking.

Add carrot and celery and cook a few more

minutes.
Add garlic, tomatoes, chilli or harissa, wine,

vinegar and stock cube. Cook till sauce has

reduced and thickened. Drain the cooked

dried beans and add to the pan.

Add chopped beans and kale, and when

nearly cooked, add basil and pepper to taste.
Fresh beans are one of the joys of summer.
Purple King and Lazy Housewife are two good
varieties of climbing bean.
Purple King is a great 'índicator' bean. It
changes from purple to green as it cooks, and
the moment it turns the beans are perfectly
cooked.
Lazy Housewife is a very prolific producer.
Use not only your fresh beans, but also your
tomatoes, basil and chillies, and dried beans
from last year's crop, in this tasty dish:


Beans with Beans


1/2 cup dried white beans, soaked overnight

2 bay leaves

2 onions, thinly sliced

a good slosh of olive oil

1/2 red capsicum, thinly sliced

2 celery sticks, thinly sliced

2 carrots, thinly sliced

2 cloves garlic, crushed

2-3 large tomatoes, chopped

chilli or harissa paste to taste

1/2 cup white wine

1-2 teaspn balsamic vinegar

1 vegetable stock cube

2-3 cups chopped green (or purple!) beans

handful chopped kale (remove main vein first)

handful basil leaves, chopped

freshly ground black pepper

Serve hot, with grated parmesan cheese and fresh, preferably home-made, bread.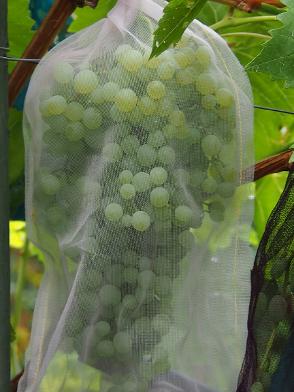 Protect ripening apples and grapes by bagging

them.

A fine mesh bag will keep codling moth out, as well as protecting the fruit from birds, European wasps

and some of the hottest sun. If codling moths have already laid eggs, the bag will help prevent the

caterpillars from pupating in the soil below though determined ones may chew through the bag. If not,

you may find them in the bag and be able to destroy them.
NOTE: these bags won't keep out determined currawongs!
You may need some bird netting too.

the backyard vegetable is now on facebook!









Why grow your own vegies??

Home grown vegetables are fresh, involve minimal food miles and,

compared to commercially grown food, use less water and fewer pesticides.
For taste, nothing beats home grown produce.
Freshly picked vegetables and herbs have higher levels of vitamins and antioxidants.
Even a small vegetable patch in a backyard can be highly productive.
(With good conditions one tomato plant can produce up to 10kg of fruit over many weeks.)
Options for small spaces like balconies are possible,

as are small raised beds, if that is what you need.

We often recommend a no-dig garden as a good way to start a food garden:


it is easy to set up on an unused patch of lawn or garden


it is easy to convert back to lawn whenever you want to


it is easy to add to if you want to grow more


it is suitable for rental properties


it is a good way to involve children in food gardening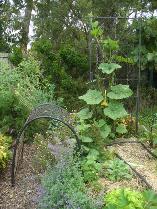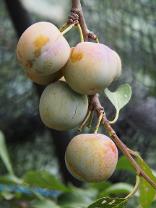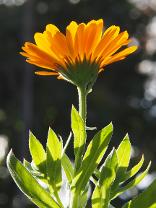 The photos on this website are from an ordinary back (and front) yard in the
eastern suburbs of Melbourne.
During the year of 2012 this yard produced more than 590kg of food, with a
value of almost $1800 (prices based on conventional produce from our local
greengrocer. Organic prices would be at least double that.)
For 2013 the garden has produced over 430kg of food, plus nearly 19 dozen

eggs, with a total value of more than $1900.
Despite having an intensively gardened property, our average mains water

use is 90 - 95 litres per person per day because we use rainwater and grey water,

and because the soil is very rich in organic matter.
The gardener juggles family responsibilities and work as well, so producing
these amounts of food is clearly not a full time occupation.
Our backyards are valuable!